SPRING RAMP AND MOREL CELEBRATION
Try a taste of Spring in Michigan with Fresh Ramps and Morel Mushrooms!
FIRST COURSE
Morel and Wild Mushroom Bisque with Ramp Creme Fraiche
Or
House Made Tagliatelle with Michigan Asparagus, Local Ramp Pesto and Boursin Beurre Blanc
PRINCIPAL PLATES
---
Sauteed Chicken with Morel Mushroom Sauce, Dauphine Potato, Michigan Asparagus, Braised Red Cabbage. $24
Paillard of Iowa Pork Loin with a Morel Mushroom Sauce, Spring Pea Risotto, Michigan Asparagus and Braised Red Cabbage. $27
Seared Tournedos of Angus Beef with a Morel Mushroom Sauce, Michigan Asparagus and Braised Red Cabbage. $29
---
DESSERT
Chocolate Pot au Creme
---
à la carte
We've decided to expand our carry-out menu and these delicious new items can be added onto a meal order or purchased completely separate. It's all up to you and either way you can't go wrong.
Savory Soups
Pint $5.00 | Quart $8.00
Wild Mushroom Bisque
Heirloom Carrot w/ Curry (Vegan)
Sweet & Sour Cabbage
Delicious Treats
Leave room for dessert.
Giant Chocolate Chunk Cookie
$1.50
Choose three of the same meal or mix and match. Pick up at Three Cats or enjoy our friendly delivery service. New selections daily. Please order by 1:00 of that day.
---
Pickup or Delivery?
15 Mile Delivery Range
Orders will be ready for pick-up at Three Cats from 4-6PM.
Delivery vehicles leave at approximately 4PM. We'll call you just before we arrive.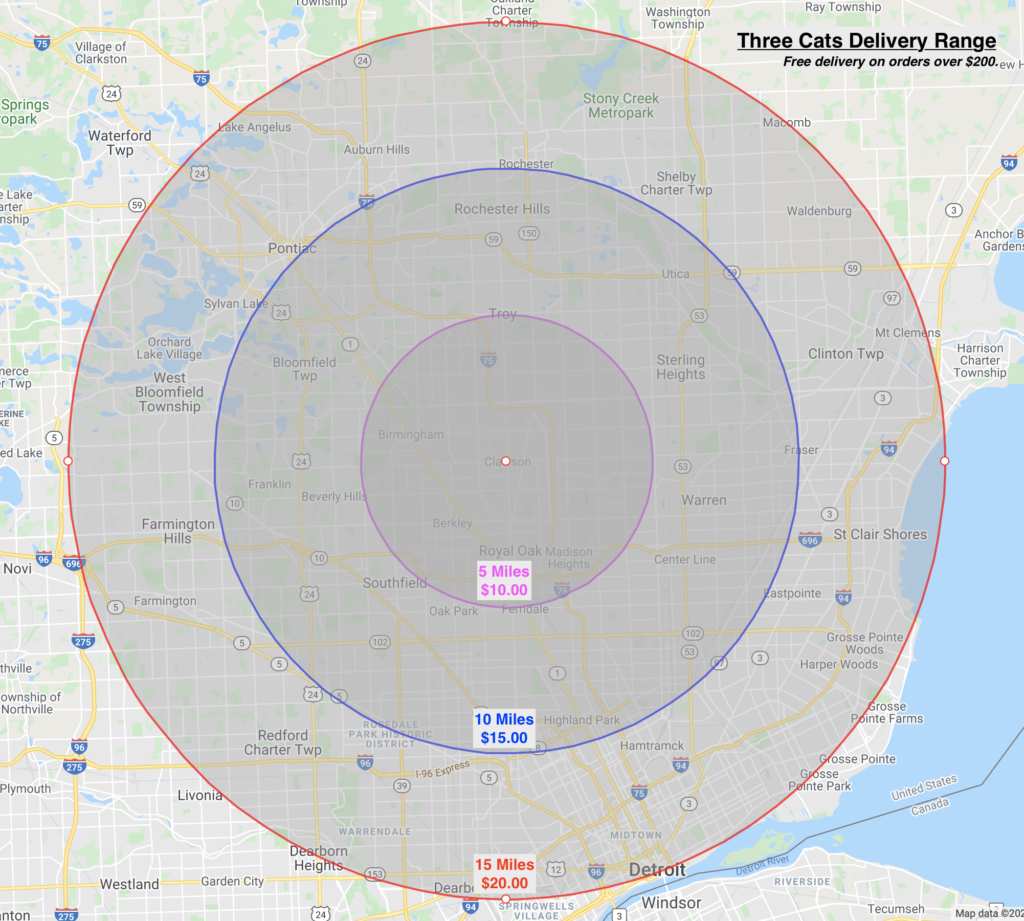 Call 248.900.CATS to Order